Wednesday, October 17, 2007
WFMW (gardening tips)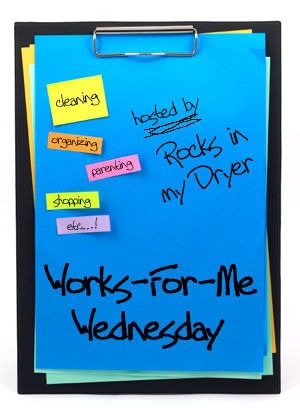 Happy Wednesday to you! It's time once again to post another WFMW tip.
This week I'm offering a couple of gardening tips. Sorry for the slightly blurry picture.
Oronozo and I want to have our own vegetable garden. Just for fun, I decided to take the seeds from bell pepper and plant a few in pots to see if I could get hardy plants out of them. They're sprouting now after less than 2 weeks. I know, it's a bit late to be planting bell peppers, but it was an experiment.
Instead of buying plants at the nursery, grow them at home yourself using seeds from the veggies you buy at the store!
My next gardening tip is labeling of pots. Sure, you can buy those fancy plant labels but why?
I like to take white chalk and label clay pots.
When I'm done, I can rinse off the pot and write on it again.
I hope these little gardening tips work for you! To see what works for others, be sure to check out the other links at
Shannon's
, the creator of Works-For-Me Wednesday!
My past WFMW entries are found here.
Labels: Works-For-Me Wednesday
6:00 AM
5 comments