Friday, September 15, 2006
Five Ingredients Friday (dried beef over toast)
It's Friday again and, even though I'm traveling today to return home from
Las Vegas
(hooray, I can't wait to get back!), I still wanted to make sure to publish my regularly scheduled
Five Ingredients Friday
post.
I'm going to share a recipe with you that my mom used to make for us as kids. We loved it! I still love it today, but I keep forgetting to make it so I haven't had it for a long time. Perhaps I'll make it this weekend.
So, my Five Ingredients Friday recipe for this week is...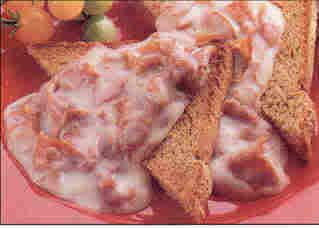 Dried Beef Over Toast
Ingredients
2 tablespoons butter

2 tablespoons all-purpose flour

1 1/2 cups warm milk

1 (8 ounce) jar dried beef

1 pinch cayenne pepper

Preparation
In a medium saucepan over low heat, melt the butter.

Whisk in flour all at once to form a roux.

Whisk in milk, a little at a time, increase heat to medium-high, and cook, stirring, until thickened.

Bring to a boil, stir in beef and cayenne, heat through and serve over buttered toast.
Optional: You could serve this over mashed potatoes and that's good, but over toast is my favorite!
I look forward to seeing your
Five Ingredients Friday
recipe! Don't forget to link your blog on this post so I can see what's cooking at your house! Forgive me if I don't get to your blog right away to look at the recipe you've posted. If you link, I will get to you, I promise!
Oh, and
be sure to put the title of your recipe in parenthesis
! It makes it so much quicker for me to go back and search for recipes as I build my weekly menu.
Thanks so much for your participation! Please, spread the word!
Labels: Five Ingredients Friday, recipe exchange
4:30 AM
22 comments