Sunday, October 15, 2006
Shout out for upcoming blogger events!
I'd like to give a shout out for a few fun activities that are coming up soon. Stop by and take a look! :)
Theresa over at Bullfrong & Butterflies will be hosting a Blog-O-Lantern contest next week.




GiBee over at Kisses of Sunshine will be hosting a Homemade-gift-ideas exchange on Monday, 23 October.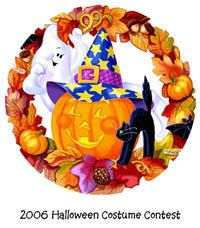 Kailani over at The Pink Diary will be hosting a 2006 Halloween Costume Contest 25-31 October.

Chilihead over at Don't Try This At Home will be hosting a Halloween Open House on Monday, 30 October.


Sandra over at Diary of a Stay At Home Mom is hosting a Holiday Traditions day on Wednesday, 1 November.



Magi over at Kaffee Klatsch is hosting a Sharing Gifts from the Heart exchange on Monday, 6 November.

Stop over at these bloggers for more details and let them know if you're interested in participating!
6:30 AM
9 comments