Wednesday, November 29, 2006
So, how was your Thanksgiving?!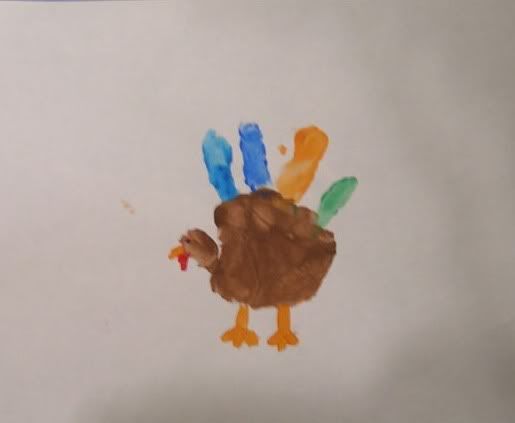 2006 Thanksgiving- Snuggle Bug's turkey handprint.
We've returned from our week long vacation in Nebraska. It was fantastic! We got to hang out with my side of the family and Snuggle Bug had a wonderful time playing with all of his cousins.
The Thanksgiving dinner food was fantastic and a fun time was had by all! The week was filled with playtime for the kids, adult time, shopping, eating, and even napping. It was perfect! The weather was even surprisingly mild for this time of year.
We stayed with my brother, Cole, and his family in their new house. The house backs up to a cornfield. How cool is that? Cole's son, Aiden, will be able to run amongst corn stalks in the late summer.
Oh, I have some excellent news to share! If you remember, several months ago Cole's wife, Madeline, miscarried their second child in the 7th week of her pregnancy. That miscarriage has been a tough thing for them to get through. But we learned this past week that she is pregnant again! It's very early in her pregnancy (she's not due until early July) and they were hesitant to share the news, even with family, but they did. I'm glad they did because now I can keep that unborn child in my prayers. I so hope that Madeline's pregnancy is successful and that the baby arrives healthy in July. The baby is due right around Aiden's 3rd birthday!
Of course, the days we were with my side of the family flew by all too quickly. I didn't even have time to blog as much as I expected. Oh how I wished I lived closer to my side of the family!
So, how was your Thanksgiving? Did you go out of town to be with family or did you get to stay at home?
And now, for a few pictures to be shared:
10/06- Snuggle Bug playing with rocks in Mexico.
11/4/06- Snuggle Bug picking dandylions on elementary schoolgrounds.


11/22/06- Snuggle Bug playing with his NE cousins. All 3 boys were born in '04!


11/24/06- Snuggle Bug at a Husker tailgate party.


11/27/06- Snuggle Bug with his 2 cousins, reading a story.

Labels: baby, celebration, family, holiday, home, memories, photos, Snuggle Bug
12:00 PM
14 comments