Wednesday, November 15, 2006
WFMW (reindeer puppet)
It's time to post another WFMW tip. This time Shannon is calling for a
Christmas Edition
.
I'm always on the lookout for fun crafts to do with Snuggle Bug. Granted, since he's not quite 2 years old yet, I usually do most of the work and he has fun making a mess, but that's okay. I got this idea from the
Enchanted Learning
website.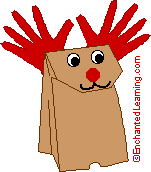 Paper Bag Reindeer Puppet

Craft Materials:
Paper bags
Deep red (or another color) construction paper
Glue
Scissors
Markers or crayons
Optional (google eyes)
Instructions:
1. Trace two hands on red construction paper. Cut them out. These will be the reindeer's antlers.
2. Fold the two square edges of a paper bag under (at the dotted lines), to form the reindeer's head.
3. You now have the shape of the reindeer's head for the puppet.
4. Glue, tape, or staple the handprints behind the reindeer's head.
5. Cut out eyes from construction paper (or glue on googly eyes). Using red paper, cut out and glue on a large red nose. Glue them to the reindeer's face. Draw a mouth with a marker or crayons.

This project and the Enchanted Learning website works for me!

If you'd like to share something that works for you, please leave me a comment. And be sure to link yourself over at Shannon's, the creator of Works-For-Me Wednesday.

My past WFMW entries:

Quick & Healthy toddler food
Grocery Game website
No Fear Shakespeare
list of age appropriate children's chores
linking within comments
baptism gift
creating blogger categories
alternate use for pot rack
cake decorating tips
unique way to stay connected
cake baking tip
comforts of home while traveling
quenching the thirst of your little one
pie crust made in bulk
hot chocolate kicked up a notch

Labels: Works-For-Me Wednesday
5:30 AM
21 comments