Wednesday, November 29, 2006
WFMW (toddler healthy eating techniques)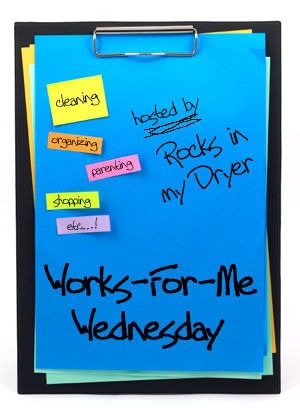 It's time to post yet another WFMW tip.
Early this month I offered a
Quick & Healthy Toddler food list
and in return I got a lot of great food ideas from those of you that shared in the comments section.
As a follow up to that post, I'd now like to offer a
How to get your toddler to eat more healthy foods
list. This list, from one of the many parenting websites out there, deals more with techniques rather than food ideas. For example, one of the suggestions is to
Go to the Source. Take your toddler on an outing to an orchard, berry farm, or dairy so he can see where the food that he eats and the milk he drinks comes from. At this age he won't truly understand the concept, but the experience might inspire him to try something he wouldn't otherwise be interested in.
I did this! I took Snuggle Bug apple picking and that day he ate
several
apples that he picked from the trees himself. Previous to this outing, he had no interest in apples, no matter how often I offered them to him. Now, he asks for them!
If you'd like a copy of this 2 page list of techniques, just leave me your email and I'll send it to you.
I promise not to use your email for spam purposes.
If you'd like to share something that works for you, please leave me a comment. And be sure to link yourself over at
Shannon's
, the creator of Works-For-Me Wednesday.
My past WFMW entries:
Reindeer Puppet
Grocery Game website
No Fear Shakespeare
list of age appropriate children's chores
linking within comments
baptism gift
creating blogger categories
alternate use for pot rack
cake decorating tips
unique way to stay connected
cake baking tip
comforts of home while traveling
quenching the thirst of your little one
pie crust made in bulk
hot chocolate kicked up a notch
Labels: health, toddler, Works-For-Me Wednesday
5:30 AM
19 comments