Monday, August 21, 2006
I'm back from an unplugged camping trip!
Good morning Blogland!
I'm plugged back in, after a quiet, relaxing weekend camping with my little family and some of our friends!
Give me a bit of time to upload the pictures off my camera and then I'll come back and post several of them on here, along with more details on our trip. I might even include a video clip too! :)
Check back, okay?
**Edited to add**
So, I've got the pictures uploaded. The video will come later.
Our camping trip this weekend was a lot of fun. This was Snuggle Bug's second time camping. We took him last summer when he was 7 months old and decided we were long overdue to take him again.
Snuggle Bug had a fantastic time, although he woke up in the middle of the night Saturday, crying because he was scared and cold in his pack-n-play. To get him back to sleep, I had to bring a camp chair in to our tent and hold him close to me, with a couple of warm blankets over both of us. He sat on my lap facing me, tucked his arms under his chest, laid his on my shoulder, and fell back asleep. I held him there for a long time, loving the weight of him, feeling his heart beat and his light snores, and inhaling his sweet baby smell. I stayed in the chair until he was in a deep sleep, then I put him on the air mattress with us and he snuggle close, grasping my hair in his hand for assurance. He usually is too squirmy and won't sleep with us, so this was a treat!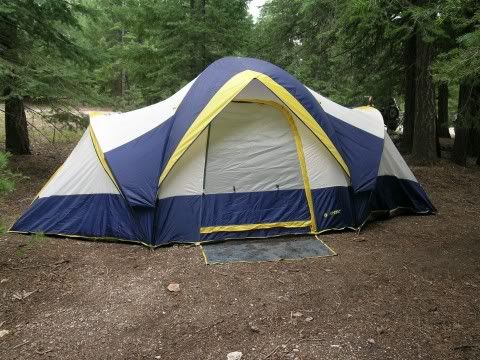 Here's our tent. We got a great deal on it last summer, when we took Snuggle Bug on his first camping trip. It's a 3 room tent and our friends called it the "Hilton" tent. To give you an idea of it's size, Oronzo brought a queen sized air mattress to put inside and Snuggle Bug had his pack-n-play in there too and we still had plenty of room.
Here's a picture taken during a hike that the three of us took. Oronzo is carrying Snuggle Bug on his back. It's a good thing Oronzo is so strong, because I don't think I could do this!


Here's Snuggle Bug wearing my hat. As we were hiking and I realized how out of shape I felt, I couldn't help but think, "I wish someone would carry me on their back!" Snuggle Bug just sat back and enjoyed the ride.

Aren't these woods beautiful? The crisp air smelled sweetly of pine. The only sounds we heard were the clacking of flying grasshoppers, the rustling of the wind, and the crunch of pine needles under our feet. It was Heavenly!



Here's Snuggle Bug at the campsite, playing with our camping cookware. He'd never seen these before (I keep them tucked away in storage), so he was fascinated. And as for camp fire, off to the right, we told him right away that it was hot and the entire time we were there he steered clear of it and often pointed and said, "Hot!" looking to each of us for confirmation approval.



Here's Snuggle Bug hanging with the guys, listening to their tall tales. Believe me, there were some very tall tales being told!


Here's an action shot of Oronzo with some of his Ultimate teammates. Ultimate is kind of a cross between soccer and Frisbee. Most of us who camped together played in an Ultimate tournament yesterday. Snuggle Bug and I were on the sidelines cheering Oronzo on and taking lots of pictures. Snuggle Bug was quite enthusiastic in his cheering, shouting "Hooray!" a lot, even when the opposing team scored. He was just happy to be outside.
All-in-all, we had a lovely weekend with our friends. We didn't get home until 9 p.m. last night. It felt so good to take a shower and be clean again! I fell asleep the minute my head hit the pillow and woke up this morning and stretched with pleasure in my bed!
So, what'd you all do this past weekend?


8:36 AM
16 comments