Friday, December 01, 2006
Favorite Ingredients Friday (Grandma's sponge cake)
Good Morning everyone! Can you believe it's the beginning of December already?! Where has this year gone? Well, it's time for another
Favorite Ingredients Friday
recipe exchange!
The recipe I'm about to share was given to me by my aunt while I was back home in Nebraska for Thanksgiving. She made this for me and then let me copy down the recipe. She told me that it was her mother's recipe (that'd be my paternal grandmother, Grandma K).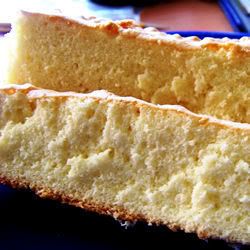 Ingredients
4 eggs

4 Tbsp water

1 cup sugar

1 tsp vanilla

1 cup flour

1 tsp baking powder

frozen strawberries, thawed

Cool Whip
Preparation
Separate the yolks from the white for all 4 eggs (both will be used).

Beat the 4 egg yolks with 4 Tbsp water.

Add sugar & vanilla and beat some more.

In a separate bowl, sift together the flour & baking powder.

Add dry mixture to wet and then fold in the 4 egg whites, beating gently.

Pour mixture into a greased & floured 9x13 inch pan and bake for approximately 30 minutes at 375 degrees. The center of the cake needs to bounce back to the touch before it can be considered finished.

Cut into individual slices and spoon strawberries & then Cool Whip over the top for a scrumptious strawberry shortcake dessert! The juices from the strawberries will soak right into the sponge cake, making it even more moist and delicious!

Optional: this cake batter can also be used to create an upside down cake by being poured over a mixture of 1/4 lb. melted butter, a handful of brown sugar, & a can of drained pineapple chunks. You still bake it for approximately 30 minutes at 375 degrees.
This was a big hit with our family during the Thanksgiving holiday! If you decide to try it, I hope you'll love it as much as I did!
I look forward to seeing your Favorite Ingredients Friday recipe! Don't forget to link your specific recipe post link on Mr. Linky so I can see what's cooking at your house!

Oh, and be sure to put the title of your recipe in parenthesis! It makes it so much quicker for me to go back and search for recipes as I build my weekly menu.

My previous Favorite Ingredients Friday recipes

Parmesan Bow-Tie Skillet
Scalloped Potatoes
Chocolate Crepes
Chocolate Cream Pie
Chocolate Chip Banana Bread
Caramel Brownies
Peach Banana Daiquiri

Thanks so much for your participation. I do appreciate it!



Labels: baked goodies, family, Favorite Ingredients Friday, grandma
6:00 AM
13 comments