Friday, December 15, 2006
Favorite Ingredient Friday (Roly-Poly Santa Cookies)
Good Morning everyone! Thank goodness it's Friday! It's been a very long week. :) I'm looking forward to getting some Christmas shopping done this weekend. Nothing like procrastinating until the last minute!
Well, it's time for another
Favorite Ingredients Friday
recipe exchange!
The recipe I'm about to share is from my 1992 Better Homes & Gardens cookbook called
Cookies, Cookies, Cookies
.
Forgive me, the picture I'm about to share is not so great. I took a picture of the picture in my cookbook. I'll actually be making these cookies again tomorrow and I'll take a picture of my baked cookies and re-post it here tomorrow.
Note: Pictures have been added to
my Saturday post
so stop by and take a peek.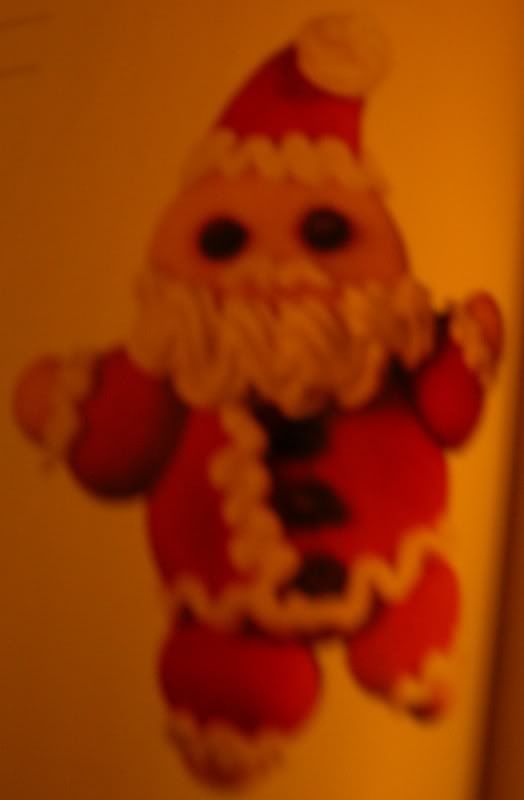 Ingredients
1 cup butter

1/2 cup sugar

1 Tbsp milk

1 tsp vanilla

2 1/4 cups all-purpose flour

red paste food coloring (you can get this at Michael's)

mini semi-sweet chocolate chips

white frosting
Preparation
Mix butter on medium to high speed on your mixer for about 30 seconds or until softened. Add sugar, beat until fluffy. Beat in milk and vanilla. Add flour and beat until well combined.

Remove 1 cup of dough and set aside.

Stir red paste food coloring into remaining dough until desired color is attained.

Shape each Santa by making one 3/4-inch ball and four 1/4-inch balls from the white dough.

From the red dough, shape one 1-inch ball and five 1/2-inch balls.

On an ungreased cookie sheet flatten the 1-inch red ball for body to 1/2-inch thickness. Attach white 3/4-inch ball for head; flatten to 1/2 inch. Attach four 1/2-inch red balls for arms and legs. Shape remaining 1/2-inch balls at the ends of arms and legs for hands and feet. Use chocolate pieces for eyes and buttons.

Bake in a 325 degree oven for 12-15 minutes or until edges are lightly browned. Cool 2 minutes on cookie sheets. Remove and cool on wire racks.

With decorating bag fitted with a plain tip, use your white frosting to pipe a mustache, a band of icing on hat, cuffs at hands and feet, down the front, and at the bottom of jacket. Use a star tip to pipe beard and pom-pom on hate.

Makes 12.
Fear not, I'll take pictures along the way as I make these tomorrow and I'll come back to this post and upload them so that if you're really interested in making these, you'll have a clearer idea on what the instructions mean. These cookies are really cute and they make great gifts for the holidays!
I look forward to seeing your Favorite Ingredients Friday recipe! Don't forget to link your specific recipe post link on Mr. Linky so I can see what's cooking at your house!

Oh, and be sure to put the title of your recipe in parenthesis! It makes it so much quicker for me to go back and search for recipes as I build my weekly menu.

My previous Favorite Ingredients Friday recipes

Cole's chili
Grandma's Sponge Cake
Parmesan Bow-Tie Skillet
Scalloped Potatoes
Chocolate Crepes
Chocolate Cream Pie
Chocolate Chip Banana Bread
Caramel Brownies
Peach Banana Daiquiri

Thanks so much for your participation. I do appreciate it!




Labels: baked goodies, Favorite Ingredients Friday, recipe exchange
6:32 AM
10 comments