Wednesday, January 17, 2007
WFMW (calendar labels)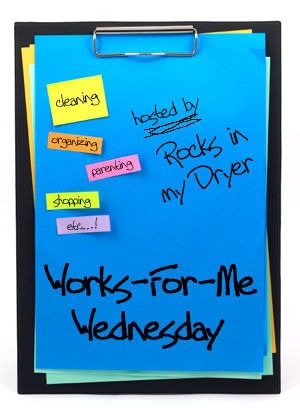 It's time to post yet another WFMW tip. This one has to do with keeping my yearly calendar up to date with birthday's and anniversaries.
Here are a few quick tips:
1) I buy my calendars in January, when they're 50%-75% off.
2) In Microsoft Word, I've created a master label document in which I have listed all the birthdays and anniversaries of all family and friends. I use Avery mailing labels #18167 (template 8167 in Word), which have 80 labels per sheet. The first time I created this, it took a bit of time, but since then it's simple!
3) I've color-coded the birthday labels
yellow
and the anniversary labels neon
green
to give me a quick visual reference.
4) On the labels, I list the birthday and wedding anniversary date, including the year. For example,
Jenny's birthday 1-21-1984
and
Mark and Amy's anniversary 12-13-1990
.
5) At the beginning of each year, I take my old calendar and compare it to my master label list, adding any new births or anniversaries before printing out the labels for the new year and sticking them on the appropriate days of my new calendar.
This is how I keep myself and my family reminded of important birthdays and anniveraries each year. The best part is that I can print out multiple sets of labels if I want them for more than one calendar (I do one for home and one at work) and I've even shared my label document with some of my extended family members (sent as an email attachment) so they can do the same.
If you have a different, more effective method, I'd love to hear about it, so please leave me a comment. :)

To see what works for others, be sure check out the links over at Shannon's, the creator of Works-For-Me Wednesday.

My past WFMW entries:

Strawberry Spinach Salad
Mesh Laundry Bag Uses
12 lbs 'til Christmas
Toddler Healthy Eating Techniques
Reindeer Puppet
Grocery Game website
No Fear Shakespeare
list of age appropriate children's chores
linking within comments
baptism gift
creating blogger categories
alternate use for pot rack
cake decorating tips
unique way to stay connected
cake baking tip
comforts of home while traveling
quenching the thirst of your little one
pie crust made in bulk
hot chocolate kicked up a notch
Labels: Works-For-Me Wednesday
6:08 AM
27 comments