Friday, December 29, 2006
Favorite Ingredients Friday (Reese's Peanut Butter Cup Cheesecake)
Hooray! It's Friday! I am so ready for a long weekend of doing nothing after this busy holiday season.
Okay, it's time for another
Favorite Ingredients Friday
recipe exchange!
The recipe I'm about to share is something I just made for Oronzo last night. He was complaining that I always make baked treats and then take them in to work and that he wished I would make something just for him that he didn't have to share. So, I did just that and he loved it!
Hmm...I'm noticing from my previous posts list that I seem to lean towards dessert recipes. I may have to try to mix things up a bit...next week.
Reese's Peanut Butter Cup Cheesecake
Ingredients
4 (8 ounce) packages cream cheese, softened

3/4 cup sugar

4 eggs

2 tablespoons flour

1/2 cup sour cream

1 teaspoon vanilla

16 Reese's cups, chopped
Preparation
Preheat oven to 425F.

Beat cream cheese and sugar until smooth.

Add eggs one at a time, beating well after each.

Add flour, sour cream and vanilla.

Pour half of batter in crust lined 9" springform pan (see below for crust recipe).

Sprinkle Reese's on top.

Pour remaining batter over top.

Bake at 425F for 15 minutes, then reduce heat to 225F and bake for an hour. (This 2 different heat seatings worked wonderfully! My cheesecake didn't even crack!)

Chill cheesecake in the refrigerator for 2-4 hours.

Garnish with Reese's cups and drizzle warmed chocolate over the top.
Crust
1 cup Oreo cookie crumbs

1 cup vanilla wafer crumbs

4 tablespoons unsalted butter, melted
Mix together and press onto bottom and sides of greased 9" springform pan.
Here are some pictures from the one I made last night.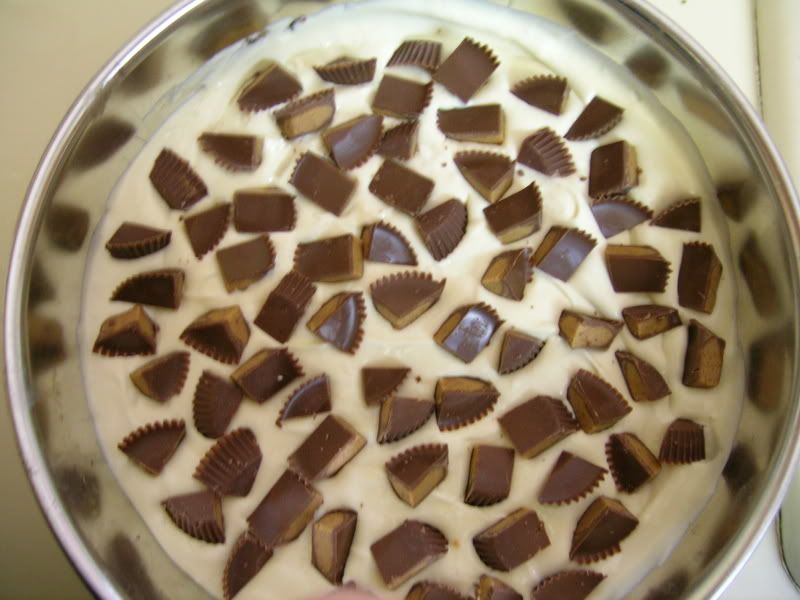 This is the center of the cheesecake. Look at all those yummy chunks of Reese's!
Here's the second layer of cheesecake going over the top of the Reese's.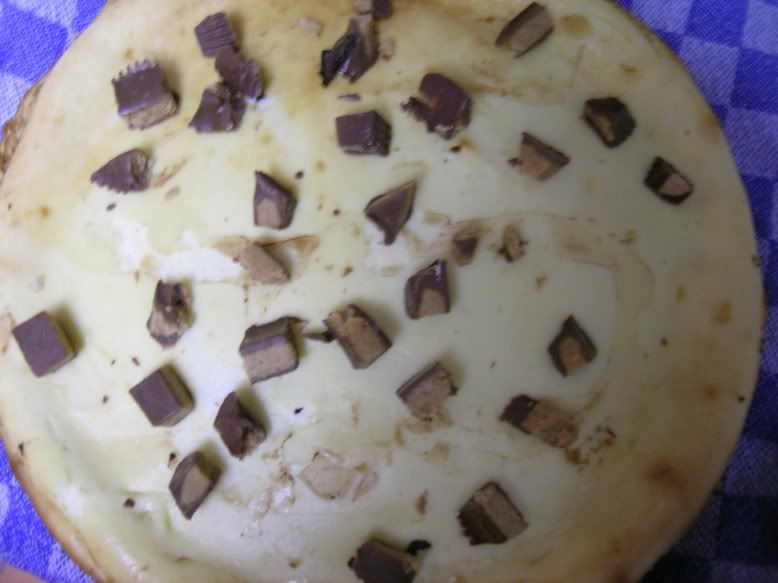 Here's the top of my finished cheesecake. I didn't have time to drizzle melted chocolate over it.
Here's the piece of my final product that was delivered to my husband!
Okay, that's all from me! Now I look forward to seeing your
Favorite Ingredients Friday
recipe!
Don't forget to link your
specific recipe post link
on Mr. Linky so I can see what's cooking at your house!
Oh, and
be sure to put the title of your recipe in parenthesis
! It makes it so much quicker for me to go back and search for recipes as I build my weekly menu.
My previous Favorite Ingredients Friday recipes
Strawberry & Cream Cheese Fudge Brownies
Roly-Poly Santa cookies
Cole's chili
Grandma's Sponge Cake
Parmesan Bow-Tie Skillet
Scalloped Potatoes
Chocolate Crepes
Chocolate Cream Pie
Chocolate Chip Banana Bread
Caramel Brownies
Peach Banana Daiquiri
Thanks so much for your participation. I do appreciate it!
Labels: baked goodies, cooking, Favorite Ingredients Friday, recipe exchange
7:00 AM
20 comments