Wednesday, February 07, 2007
WFMW (Love, Sweet Love Edition)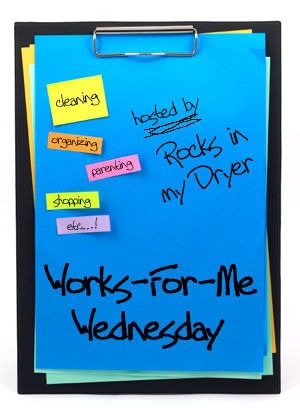 It's time to post yet another WFMW tip. This week's theme is "
Love, Sweet Love
". Shannon has suggested that we either share the best relationship advice you can give. Or, share some ideas for making Valentine's Day special for your sweetie or your kids. I'll try to do both.
Let's start out with some relationship advice.
1) When you wished you could strangle your husband because of something he's done or said to tick you off, take a deep breath, bite your tongue to keep those sarcastic insults from flying, leave the room to compose yourself, lock yourself in the bathroom and call both of your sisters and any available girlfriend to discuss how mornonic men can be sometimes (specifics of your situation don't even need to be shared for this to be an effective method of releasing steam), and then come back and try to fascilitate a rational discussion.
2) Don't go to bed angry because all you'll do is fume while your husband snores and prevents you from falling asleep even if you wanted to!
3) Learn the fine art of compromise or, if you're like me, wait and see what your husband comes up with. He's usually much better at compromise than I am!
4) Marriage has it's ups and downs. Wave your hands high above your head and laugh aloud while enjoying the ups; hold on tight and hold your head up high as you ride through the downs. And along the way, be sure you not only
tell
your husband frequently that you love him, but
show
him as well!
5) When your toddler tests your patience with temper tantrums designed to push all your buttons and make you pull your hair out, grab him, pin him to the floor, and
tickle him
until you both forget what the tantrum was about in the first place.
6) When you tuck your little one in to bed, make sure to rub noses and whisper sweet words of love in his ear. Be patient if he calls you back into the room 5 more times for more nose rubbings, even if you know he's just stalling to prevent having to go to bed.
Now, for my ideas for making Valentine's Day special formy sweetie and my son.
1) I think I'll go in late to work and cook a special breakfast for both my "boys." I'm thinking heart shaped waffles with strawberries and whipped cream might be nice.
2) Of course, I'll be making them each their own hand-stamped Valentine's Day card. I love making cards!
3) This Saturday I'm having a
cookie bake fest
at my house (after I send the boys out for the afternoon). Three of my friends are coming over and we're making tons of Valentine's Day cookies and getting all fancy with our decorations. I'll be packaging some of those up to give to my "boys" on Valentine's Day. I'll post some pictures this weekend to show you all the results.

4) When I get home from work that evening, I think I'll feed Snuggle Bug dinner and put him to bed early, and then plan an indoor picnic for hubby and I, involving candles, soft music, and of lots of yummy finger foods and some mouth-watering chocolate treats, hopefully inspired by my Favorite Ingredients Friday- Valentine's Day chocolate edition recipe exchange that I'm hosting this Friday!
I think that should do it for this week's theme is "Love, Sweet Love" edition. Now head on over to Shannon's, the creator of Works-For-Me Wednesday, to see what other's have in mind!

My past WFMW entries:

travel tip
free children's printables
calendar labels
Strawberry Spinach Salad
mesh laundry bag uses
12 lbs 'til Christmas
toddler healthy eating techniques
reindeer puppet
Grocery Game website
No Fear Shakespeare
list of age appropriate children's chores
linking within comments
baptism gift
creating blogger categories
alternate use for pot rack
cake decorating tips
unique way to stay connected
cake baking tip
comforts of home while traveling
quenching the thirst of your little one
pie crust made in bulk
hot chocolate kicked up a notch

Labels: baked goodies, holiday, humor, Oronzo, relationships, Snuggle Bug, Works-For-Me Wednesday
6:22 AM
18 comments