Wednesday, April 04, 2007
WFMW (car edition)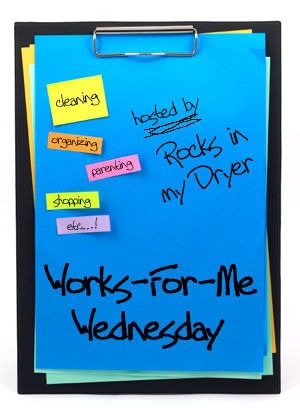 It's time to post yet another WFMW tip. This week Shannon is doing a car edition. I can't wait to see what everyone comes up with!
As parent's of a toddler, it didn't take us long to realize that our cars got mighty messy in a hurry with all the little toys, books, sippy cups, and other odds and ends that Snuggle Bug likes to have when we're out and about. I did a bit of researching online and found a fairly inexpensive
kid's car organizer
. We bought ours for only $20.
This organizer has been a life saver. Snuggle Bug has easy access to his toys and drinks and we no longer have such a mess to deal with! Oh, one note, this is not my picture that I'm showing. We don't give Snuggle Bug Wendy's or other fast food in his carseat. :)
A kid's car organizer works for me! To see what works for others, be sure to check out the other links at
Shannon's
, the creator of Works-For-Me Wednesday!
My past WFMW entries:
stop urban legend emails
send credit scores soaring
foolproof extra creamy cottage cheese
stainless steel ball whisk
Uses for your child's wagon
10 Reasons Why Parents Should Not Spank
Love Sweet Love
travel tip
free children's printables
calendar labels
Strawberry Spinach Salad
mesh laundry bag uses
12 lbs 'til Christmas
toddler healthy eating techniques
reindeer puppet
Grocery Game website
No Fear Shakespeare
list of age appropriate children's chores
linking within comments
baptism gift
creating blogger categories
alternate use for pot rack
cake decorating tips
unique way to stay connected
cake baking tip
comforts of home while traveling
quenching the thirst of your little one
pie crust made in bulk
hot chocolate kicked up a notch
Labels: Works-For-Me Wednesday
6:00 AM
11 comments