Wednesday, April 11, 2007
WFMW (Crayola Twistables Slick Stix)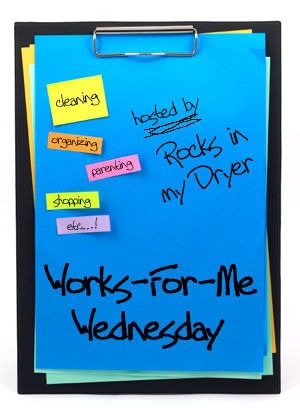 It's time to post yet another WFMW tip. This week I'm posting about our new favorite coloring product,
Crayola Twistables Slick Stix
! The endorsement I'm about to give was not solicited. I just love this product enough to want to spread the word on my own.
We first saw this brand of Crayola Twistables at the craft area of a street fair in our city. Snuggle Bug and I tried them and had a lot of fun creating vibrant colored pictures! So, the Easter bunny decided to leave Snuggle Bug a set in his Easter basket this past Sunday.
What I like about these Twistables is that they require no peeling or sharpening when the tips get worn down—just twist them up and you're ready to keep on coloring. The clear plastic barrels keep them from breaking and make it easy to see how much color is left. Child safe snap on cap prevents drying out.
The Crayola Twistables Slick Stix remind me a bit of using a tube of lipstick for coloring. These rich, brilliant colors glide across the page, making coloring lots of fun! Take a look at Snuggle Bug's latest masterpiece! He had a blast creating it this afternoon. I practically had to pry the colors out of his hand when it was time to go.
Word of caution:

t

hese

are not entirely washable.
The twistables can make a mess because the colors can smear at first. I would advise you to keep these set up out of reach and only allow them to be used under the careful eye of a parent. I'd hate to see what would happen if a toddler were on the loose in the house with a set of these!
Crayola Twistables Slick Stix works for me! To see what works for others, be sure to check out the other links at
Shannon's
, the creator of Works-For-Me Wednesday!
My past WFMW entries:
kids car organizer
stop urban legend emails
send credit scores soaring
foolproof extra creamy cottage cheese
stainless steel ball whisk
Uses for your child's wagon
10 Reasons Why Parents Should Not Spank
Love Sweet Love
travel tip
free children's printables
calendar labels
Strawberry Spinach Salad
mesh laundry bag uses
12 lbs 'til Christmas
toddler healthy eating techniques
reindeer puppet
Grocery Game website
No Fear Shakespeare
list of age appropriate children's chores
linking within comments
baptism gift
creating blogger categories
alternate use for pot rack
cake decorating tips
unique way to stay connected
cake baking tip
comforts of home while traveling
quenching the thirst of your little one
pie crust made in bulk
hot chocolate kicked up a notch
Labels: product review, Works-For-Me Wednesday
6:11 AM
13 comments