Wednesday, May 02, 2007
WFMW (Birthday Edition)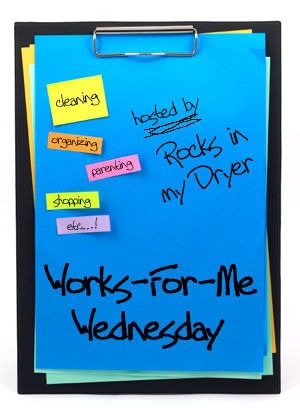 Before I share my WFMW tip, I'm hosting a book giveaway for Tracey Elliot's book,
Unbroken
. If you'd like to win a
FREE
copy of this book, check out the details
right here
.
Now, it's time to post yet another WFMW tip. This time Shannon is asking us to share
birthday
tips.
So, I've only hosted 2 birthday parties for my son but, the tip I'm about to share was a big hit by the kids that attended and their parents too.
Many of the parties we've attended hand out gift bags as you're leaving the party. When I've gotten home and looked through them, I was less than pleased with some of the things included...small toys that can be choking hazards, candy that I wouldn't want Snuggle Bug to eat, etc.
Determined not to waste money on unsuitable trinkets I decided to take a different approach at party favors for Snuggle Bug's 1st and 2nd birthday parties.
Each time, I pulled out one of our wicker baskets and filled it with a good selection of age appropriate toys (books, balls, bubbles, crayons, etc.) that I purchased for Snuggle Bug's little friends.
At the end of the party, as the kids were getting ready to leave, I'd pull out the basket and let the kids pick a couple of items to take home. The kids loved having a choice and the parents appreciated the opportunity to help them choose the most suitable gift.
Using
a party favor basket
works for me! To see what works for others, be sure to check out the other links at
Shannon's
, the creator of Works-For-Me Wednesday!
My past WFMW entries:
10 ways to make brushing fun!
Crayola Twistables Slick Stix
kids car organizer
stop urban legend emails
send credit scores soaring
foolproof extra creamy cottage cheese
stainless steel ball whisk
Uses for your child's wagon
10 Reasons Why Parents Should Not Spank
Love Sweet Love
travel tip
free children's printables
calendar labels
Strawberry Spinach Salad
mesh laundry bag uses
12 lbs 'til Christmas
toddler healthy eating techniques
reindeer puppet
Grocery Game website
No Fear Shakespeare
list of age appropriate children's chores
linking within comments
baptism gift
creating blogger categories
alternate use for pot rack
cake decorating tips
unique way to stay connected
cake baking tip
comforts of home while traveling
quenching the thirst of your little one
pie crust made in bulk
hot chocolate kicked up a notch
Labels: birthdays, Snuggle Bug, Works-For-Me Wednesday
6:05 AM
23 comments