Wednesday, July 18, 2007
Works-for -Me Wednesday (chalk it up)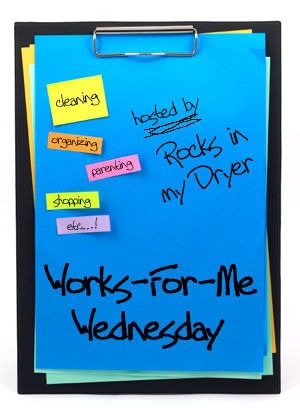 It's time once again to post another WFMW tip. Before I share my tip, I wanted to share some info about book giveaways that are happening out there! Although I've already selected a winner for the launch of my
Pay It Forward
book exchange, there are other books still being given away.
Check it out
!
Now, for my WFMW tip...
Chalk It Up
We spent quite a pretty penny for a train set for Snuggle Bug
last Christmas
and he loves it! We don't regret our purchase, but since there are 112 pieces we try to encourage Snuggle Bug to play with the train set mainly in his bedroom.
Snuggle Bug has other wooden trains that we allow him to play with outside and, rather than buy the expensive connecting tracks that can get lost or broken, we use sidewalk chalk to draw train tracks on the driveway. We draw a different train track each time and he loves it!
So, creating chalk train tracks works for me, maybe it'll work for you. To see what works for others, be sure to check out the other links at
Shannon's
, the creator of Works-For-Me Wednesday!
My past WFMW entries:
fun & creative labels
Melt Down
How to get your spouse to do the dishes
the Plate Method
free steak seasonings/marinades
bargain shopping tips
My-Calorie-Counter
free customized ring tones
party favor basket
10 ways to make brushing fun!
Crayola Twistables Slick Stix
kids car organizer
stop urban legend emails
send credit scores soaring
foolproof extra creamy cottage cheese
stainless steel ball whisk
Uses for your child's wagon
10 Reasons Why Parents Should Not Spank
Love Sweet Love
travel tip
free children's printables
calendar labels
Strawberry Spinach Salad
mesh laundry bag uses
12 lbs 'til Christmas
toddler healthy eating techniques
reindeer puppet
Grocery Game website
No Fear Shakespeare
list of age appropriate children's chores
linking within comments
baptism gift
creating blogger categories
alternate use for pot rack
cake decorating tips
unique way to stay connected
cake baking tip
comforts of home while traveling
quenching the thirst of your little one
pie crust made in bulk
hot chocolate kicked up a notch
Labels: Works-For-Me Wednesday
6:00 AM
7 comments